We await you at Biofach 2023!
Mon, 16/01/2023 - 12:16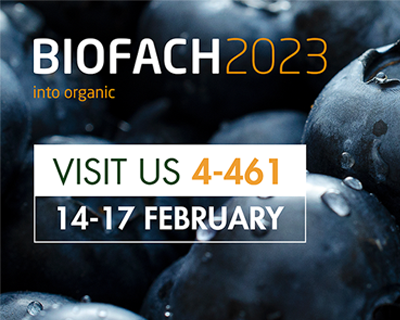 A new year has begun and our team are already starting to prepare for BioFach 2023, the world's leading trade fair for organic food and agriculture. 
Every year this event brings together a network of companies dedicated to organic food to share ideas, inspirations and new techniques to bring organic products to the forefront of importance in the marketplace. 
Hispanagar is using this opportunity to learn about new trends within this market niche and introduce Ecoagar, an eco-certified agar that has been manufactured while respecting natural resources.  
As mentioned on numerous occasions in our blog, agar is a product that has many beneficial properties for our organism (it provides a high percentage of fiber, creates a satiating effect, etc.) aside from it being a very versatile ingredient for the food industry since it does not alter the smell nor flavor in recipes.  
For this reason many of our customers use Ecoagar in their production processes of jams, candy, yogurts, jelly beans...among many others.  
We invite you to visit us at booth number 4-461   in Nuremberg from February 14-17 February. Seize the opportunity and strike a deal with the  marketing department. 
We look forward to seeing you!